Discover more from The Blazing Musket
Your Home For New England Soccer Coverage
Rhode Island FC Tidewater Landing Stadium Making Progress
Rhode Island FC Tidewater Landing Stadium Making Progress As Cement Is Poured On Taft Street
Don't let the frozen tundra fool you. Since the groundbreaking ceremony last August, the Tidewater Landing soccer stadium project has shown a lot of progress. This past week the concrete foundation for the stadium was poured per a report from Ethan Shorey of The Valley Breeze. Also in the report was a note that the stadium project is still on track for the 2024 USL Championship season.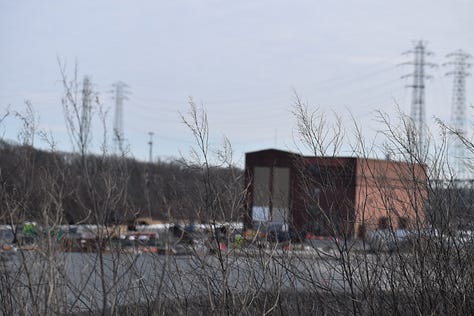 Just down the road from the stadium is the team's headquarters which is hard to miss from the road. The headquarters will also be next to the team's store and both are expected to open when the finishing touches are completed in the coming weeks.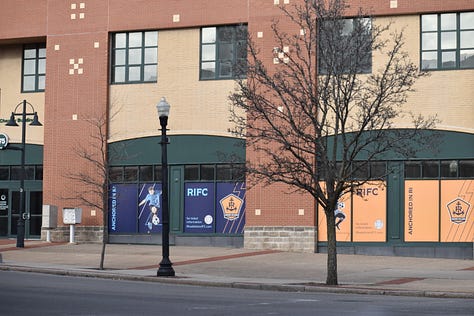 MBTA Station A Gamechanger For Transportation
Momentum in downtown Pawtucket is also taking place in other ways with the Pawtucket/Central Falls train station opening. The station is just under a mile from the stadium site and connects it to both Boston and Providence via the MBTA commuter rail.
With so much progress on the soccer stadium taking place many Rhode Islanders have been asking about the future of McCoy Stadium which has stood abandoned since the 2019 International League season. In November, the residents of Pawtucket voted to demolish the stadium and build a new high school in its place. Per a report from WBSM, the City of Pawtucket has plans for a send-off celebration this Summer.
The coming months will bring a lot of news for RIFC with the team working on filling key positions such as the head coaching position. Other key open positions include the Cheif Revenue Officer and Chief Marketing Officer. All open positions can be found on the team site.
Make sure to subscribe to The Blazing Musket for all RIFC news as we build out our coverage of Rhode Island's team.
The Blazing Musket is a reader-supported publication. To receive new posts and support my work, consider becoming a free or paid subscriber.