Discover more from The Blazing Musket
Your Home For New England Soccer Coverage
Everything New England Revolution Fans Need to Know About 2023 MLS Salary Release
Let's talk money
The day that MLS salary nerds anxiously wait for has arrived. MLS salary release day was on May 16th and there are plenty of numbers that will stand out to New England Revolution fans.
Starting off on the club level, New England is in the top 10 in spending across the league. The Revolution clock in at eighth and are reported to be spending $18,909,273 on players in 2023.
New England also employs three players who are in the top 20 of the league's highest salaries. Carles Gil comes in at 12th with a salary of $3,545,833 and is followed by Jozy Altidore in 18th ($2,939,963) and Gustavo Bou in 20th ($2,675,000).
Altidore's contract surely stands out the most. His play has not lived up to that number though it remains unknown exactly how much of the nearly $3 million is being paid by the Revolution. In 23 games played, Altidore has only made four starts and tallied a single goal. Altidore's contract earned himself a pot on The Athletic's Underperforming XI.
But he isn't the only member of the Revolution whose contract has been deemed an overpay. Omar Gonzalez is also listed on the XI curated by The Athletic as he will be making $450K this year.
On the other end of the spectrum, Henry Kessler is on The Athletic's Budget XI. The center back has been a key piece of New England's back line while making just $220K.
Kessler isn't the only bargain on the Revs roster. Ema Boateng makes just $95,784.00 and Noel Buck makes just $67,360.00.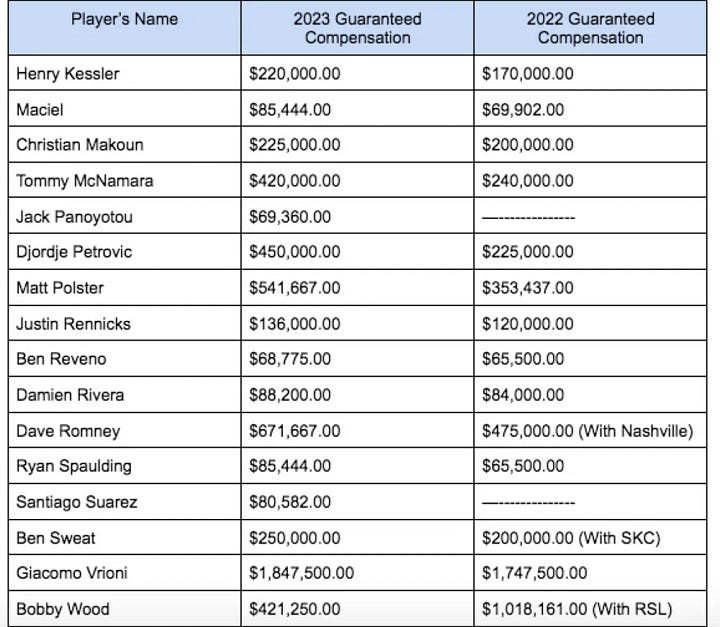 The salary data also shows that a number of Revs players received a bump in pay. This includes Dylan Borrero, Brandon Bye, Andrew Farrell, Nacho Gil, DeJuan Jones, Christian Makoun, Tommy McNamara, Djordje Petrovic, Matt Polster, Justin Rennicks, Ben Reveno, Damian Rivera, Dave Romney, and Giacomo Vrioni all saw some extra cash in their bank accounts.
Revolution fans now also know the salaries of some of their newest arrivals. Latif Blessing saw a pay increase after being acquired by LAFC ($665K). Dave Romney also got a pay bump as he is making $671,667.00 with New England.
Bobby Wood took a massive pay cut to join the Revolution roster. After making over a million dollars with Real Salt Lake, New England is paying just $421,250.00 for the striker's services. With Wood starting eight games and scoring three goals and two assists, the deal to bring him in is looking like quite the stroke of genius from Bruce Arena so far.
But what do you think about these salary numbers? Who is getting overpaid? Who is getting underpaid? Feel free to let us know!