Discover more from The Blazing Musket
Your Home For New England Soccer Coverage
Know Thy Enemy: Revolution vs NYCFC Season Expectations Edition
New York City FC had a high squad turnover in the offseason and are struggling a bit amid high expectations, something New England was fairly familiar with last year.
Two years ago the New England Revolution set an MLS single-season points record en route to their first-ever Supporter's Shield. Last year they got bounced in the CCL in the quarters, sold three of their top players for a boatload of money, and missed the playoffs. Such is life in soccer.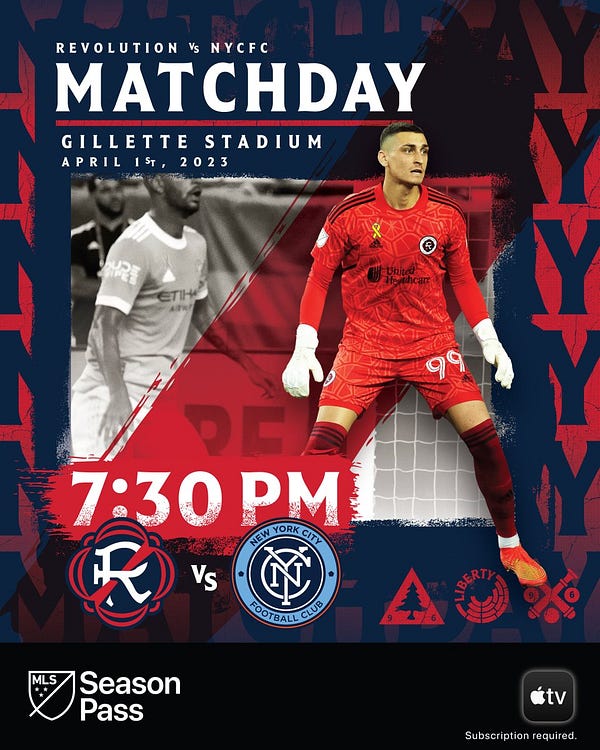 Two years ago NYCFC won MLS Cup and last year were the third seed in the East and Conference Finalists (MLS semifinalists?) losing to Philadelphia in the playoffs…but the drop off from player departures might be coming around to get them early in the year.
NYCFC is always hard to pin down because they are so good at home on the postage stamp baseball field and even on bad days a general pain in the you-know-what to deal with on the road. Seven points from five games (2W-2L-1D) with two home wins is not a terrible start by any stretch, but in the two losses NYC barely registered an attack which should be cause for concern for a team that is used to generating and finishing a lot of big chances.
Likewise, the Revs themselves are giving off strong 2021 vibes themselves, with a team that has been able to win one goal games, get shutouts, and steal results late in various combinations. The Revs have not been dominant statistically on offense this year — but similarly to their 2021 season — it hasn't mattered that much. The Revs have arguably stolen two wins this year with late goals and have a win with a starting midfield featuring three homegrowns who barely have driver's licenses.
Unlike last year when the Revs weren't able to get results out of patchwork lineups and fully integrate their mid-season replacements, they've had no problem tapping deeper into the bench with mainstays like Andrew Farrell and Tommy McNamara still yet to make their season debuts with injuries. Whether or not NYC can weather these early summer struggles and build up toward what is likely to be a key summer window remains to be seen.
New England plays four of their next five games at home before a brutal stretch in June where they're on the road for four of five including at Philly and Atlanta. Already sitting at the top of the East, gaining more separation at home against a couple of teams that look destined for the basement in SKC and Montreal could be a recipe to stave off that noted summer swoon.
The road for NYC both figuratively and literally does not get any easier, with a four-game road trip planned for most of May followed by home games against Philly, Cincy, and the Revs on June 3rd. We'll probably know a lot more about where these teams stand two months from now.
You can't win an MLS Cup in April…but you can make it a lot harder for yourself.
As always, we talk with our frenemies at Hudson River Blue as Oliver Strand offers his take on NYC's not great match at Houston last week, what Richy Ledezma can offer this team, and the outlook for NYC going into the rest of the season. Be sure to head over to their site for my answers to their questions and all the rest of their game coverage.
TBM: NYC is coming off a road loss at Houston, what didn't work in that game and how does the team correct it to get their first road win of the year?
NYCFC are a little fragile this rebuilding year – out of the Starting XI that faced Philadelphia Union in the MLS Cup Playoffs Eastern Conference Final only four remain with the team, and only two of those (Santiago Rodríguez and Gabriel Pereira) are starters. The game against Houston exposed that fragility. James Sands shifted from midfield to defense to cover for Maxime Chanot, who was on international duty, and the team just couldn't do much with the ball in the attacking third. Could one missing player cause that much disruption? Right now, yes.
NYCFC's best Starting XI is quite good, but if one player is missing - or one player is having an off-day - then the performance can drop off. How do they correct it? Jeeze. Last year, NYCFC had players capable of grabbing a game by the scruff of the neck: Maxi Moraelz, Taty Castellanos, and Alexander Callens could all pull a win out of thin air with 40 seconds of sublime play. I don't see anybody with that kind of juice on the team right now, but hopefully that will change as players grow and improve. If it's going to be fixed it's going to be through teamwork, through cohesive passing and creating chances. Will it be fixed by Saturday? We'll be able to tell around 8 pm.
TBM: Richy Ledezma is a solid get this late in the MLS window, what the expectations for him this season and where is he going to lineup for NYC?
He's interesting, a season-long loan that we'll have to assume could be turned into something more lasting. He was impressive in his short time on the field last week, and I could see him playing a similar impact-sub role on Saturday. It's too soon to tell what kind of chemistry is developing in training, if he's synching up with Gabi Pereira or Matí Pellegrini, if his role is going to give Santi a rest or if they both stay on to bring the fight up the field. It's too soon to say, but what we saw in Houston was extremely promising.
TBM: NYC likely felt they were East contenders going into the year, the Revs might think they are now a month in...is this match a good gauge of where both teams could be at the end of the year or is it still a little early?
It's early for NYCFC, which remains a work in progress. Santi and Sands didn't rejoin the club until early March, and Richy officially joined last Friday. It's still gelling. Goalkeeper Luis Barraza has made five starts but that position could be contested by new signing Matt Freese. NYCFC are in the market for a No 9 and a left-footed center-back. In other words, the roster you'll see on Saturday won't look like the one you'll see in the summer and fall.
Besides, what can you tell from the first month of MLS league play? Last year NYCFC had one win and one draw after five games, and the season went pretty well all things considering.That said, New England look strong and cohesive. Last year must have been rough after the heights the team hit in 2021, but it's looking like the rebuild is solid.
Lineup: There's some grumbling that head coach Nick Cushing should mix it up more, but I expect the Starting XI to be familiar - it's subs like Richy, Thiago, and Kevin O'Toole who could make it spicy
Talles Magno
Matí Pellegrini - Santi Rodríguez - Gabi Pereira
Keaton Parks - James Sands
Braian Cufré- Maxime Chanot - Thiago Martins - Mitja Ilenic
Luis Barraza
No injuries to report, but then they never tell us until the last minute.
Prediction: NYCFC shock the futbol world with a composed 2-1 away win. A guy's gotta dream, right?